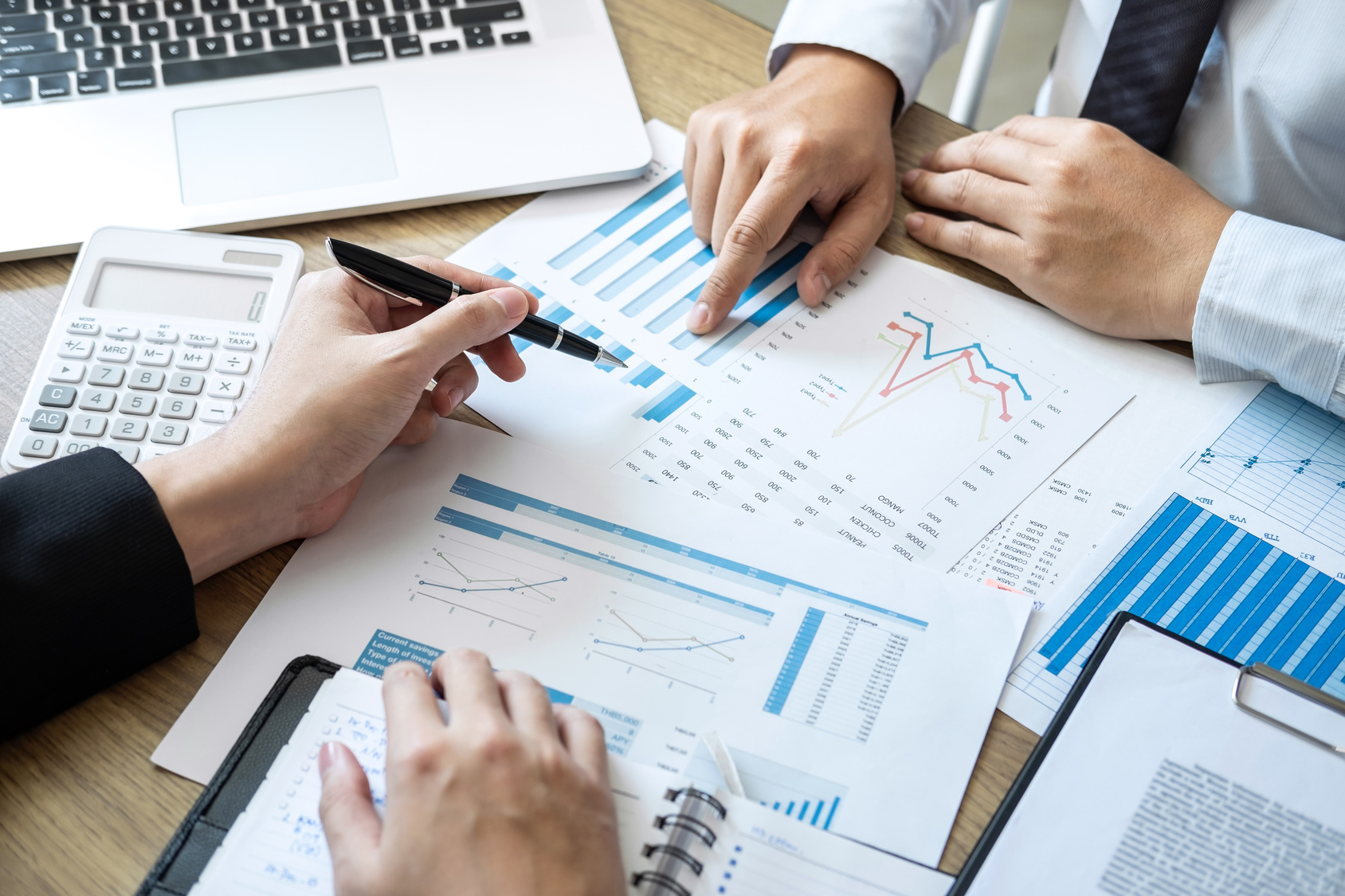 As online school becomes the new norm, students still have to choose a career and continue doing well in classes. Fall is approaching and freshmen or undecided majors have to choose a field of study. It is extremely hard to make this big decision, let alone deal with the effects from the current disruptive environment. The goal of this post is to help you determine if digital marketing is the right fit for you.
Proceed Innovative has volunteered to customize techniques through search engine optimization (SEO) for our website. They are a digital marketing company specializing in the following services:
What is Digital Marketing?
In general, digital marketing involves internet and online-based technologies and media platforms to promote products and services. Specifically, it has many departments such as: brand management, web content, social media management, search engine optimization (SEO), web analytics, mobile marketing, and much more. Each digital company has its own focus on some of these areas.
Proceed Innovative mainly specializes in SEO, lead generation, and pay-per-click. Their commitment is to accomplish each client's objectives and meet their ROI goals. Therefore, Proceed Innovative creates a customized marketing solution plan for each of their clients.
What is Included in Digital Marketing
Each of the following include fields of digital marketing with which to become familiar:
SEO – known as search engine optimization, SEO is the practice of optimizing a website with search engine and human-friendly strategies to improve the online presence of an individual or company while providing quality, relevant, updated information that is convenient for the user. When applying these strategies, one must conduct proper keyword and competitor research, incorporating it into the website while maintaining consistency with the brand message to rank well on the search engine results pages (SERPs).
Pay Per Click (PPC) – advertisement through a search engine in which the user bids on specific keywords within a specific time and location to attract relevant traffic and improve conversions. Costs will vary according to the search term, location and competition; however, advertisers have full control of their budget, turning the campaign on and off as needed.
Lead Generation – the practice of generating quality, relevant leads through digital marketing strategies to help commercial clients grow their business. This involves users searching for a local service online, they find the website, call the phone number or fill out the form, which is sent to the commercial client to service the lead. Leads can be charged individually or through a flat fee.
E-mail marketing – the promotion of a product or service through email to send advertisements, request business, or solicit sales or donations. Previously, it was used to target mass audiences. Now, the emails and newsletters are more targeted to specific audiences according to their interests to be relative and improve click through rates (CTR) and conversion rates for the advertiser.
Social Media Marketing – the promotion of a product, service or business through one or multiple social media platforms, including Facebook, Instagram, Twitter, SnapChat and much more. Advertisers can choose to post on their page only or "boost" their posts, paying only when a user clicks on the sponsored ad. Advertisers can choose their budget, audience, location and time to advertise to improve user engagement and conversions.
Content Marketing – the practice of creating and promoting quality, relevant and updated content, such as blog articles, infographics, pictures, videos and more to promote products, services, individuals and business. There is a common saying that "content is king" and it pairs well with social media marketing, SEO, email marketing, lead generation and many more forms of digital marketing.
Personal SWOT
To find the best fit in the massive industry of digital marketing, you will have to self-evaluate on your strengths, weaknesses, opportunities for improvement, and threats. The SWOT analysis is an easy and widely used tool to asses internal and external factors. It is a great way to assess businesses, but also individuals.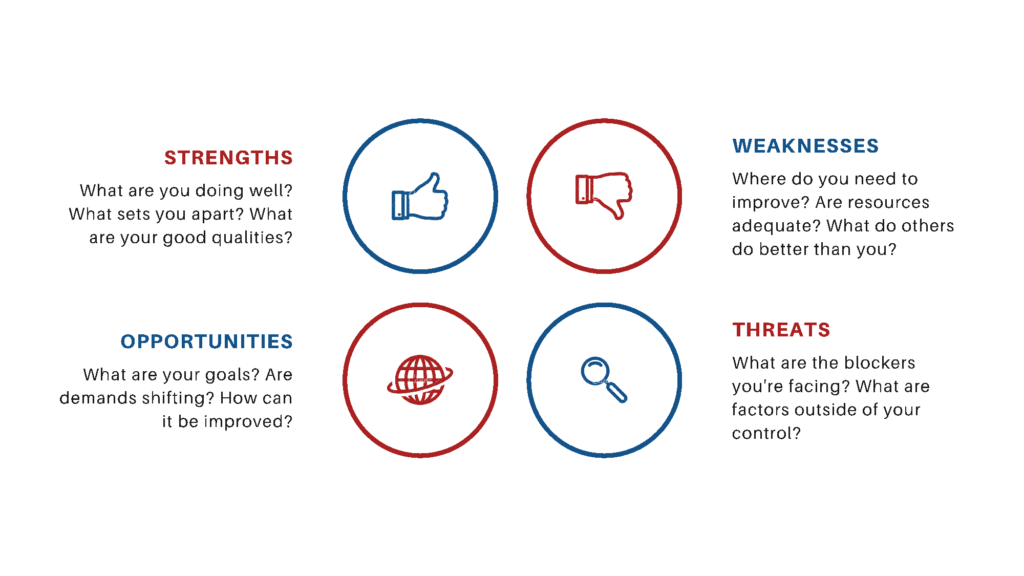 Strengths – This is a place to think of personal achievements, certifications, and anything that makes you stand out. Open your projects book and figure out why they are so good. You can even include experiences outside of school or work.
Weaknesses – Look through the qualifications of your desired job position. Are you missing any that you can improve on? Also, think about any bad habits that may keep you away from reaching your goals. They could be related to communication skills, tardiness, etc.
Opportunities – Trends constantly change. Therefore, it may be a good idea to keep up with them or create your own. Maybe there is a new technology that you read about, which can help you in the future. Are there any certifications that you would like to obtain?
Threats – Think about your competitors. In this case it may be your classmates and other job applicants. Another threat might be your own self. Maybe there are some personal traits you would like to work on.
Certifications
In addition to self-evaluation, the next step is to get some professional training to differentiate yourself from the crowd. Some ideas include: Google AdWords, Google Analytics, HubSpot, Hootsuite, Copyblogger, Facebook Blueprint, YouTube Certification, American Marketing Association Digital Marketing Certification, and much more. These will also look good on your LinkedIn profile and resumé.
We know education can make a hole in your pocket, so there are some programs to speed up the process and be more cost-effective. It is important to verify if those programs work for you and will help you in getting your future dream job. Examples include: Cornell University Digital Marketing Certificate, Duke University Digital Media and Marketing Certificate Program, GreatResponse Digital Marketing Certificate, etc.
Have Questions About Digital Marketing?
If you are interested in learning more about digital marketing, Proceed Innovative's digital marketing blog has extensive information on the latest trends, including on SEO, lead generation, website audits and much more.
If you have any specific questions regarding digital marketing, don't hesitate to reach out to them at 800-933-2402 for answers. Their digital marketing experts are always happy to help.
We'd like to hear your thought and ideas. Leave a private suggestion or comments at