What is the Promise Pilot Program?
3,250 Cook County households will be chosen via a lottery system to receive no strings attached $500/month for 24 months. More than one-third of all Cook County households are eligible to apply.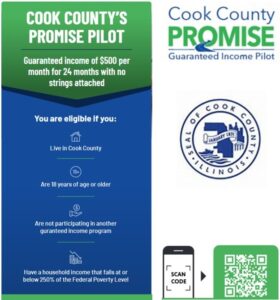 Who is Eligible?
18 years or older;
A resident of Cook County;
Household income is at or below 250% of the federal poverty level or less; and
Not currently receiving funds from another guaranteed income pilot. This includes the City of Chicago's Resilient Communities pilot.
Anyone can apply regardless of their immigration status.
Note: Cook County elected officials and employees (and their family members) are not eligible to participate in the pilot.
What is the Federal Poverty Level?
Household/Family Size                                 250% Federal Poverty Level
                     1                                                                            $33,975
                     2                                                                            $45,775
                     3                                                                            $57,575
                     4                                                                            $69,375
                     5                                                                            $81,175
                     6                                                                            $92,975
                     7                                                                          $104,775
                     8                                                                          $116,575
*For each additional member over 8, add $11,800.
What is a household?
The applicant
Anyone who depends on the applicant (spouse, child, etc.) for most of their expenses (including household expenses i.e. utility bills)
Anyone the applicant depends on
Example: A family that lives together but does not share expenses and file taxes separately is considered separate households. One member from each household can apply.
Necessary Documents:
Required at Time of Initial Application
State ID or picture/Selfie
Can be Uploaded at the Time of Application OR Later in the Application Process
DHS benefit award letter (SNAP/MEDICAL)
Proof of income
Proof of residency
Walk-In and Outreach Days
Walk-In:  1300 W Northwest Hwy, Mt Prospect, IL 60056
October 6: 9am – 12pm and 1pm – 4pm
October 11: 9am -12pm and 1pm – 4pm
October 17: 9am – 12pm and 1pm – 6:30pm
October 21: 9am – 12pm and 1pm – 6:30pm
Outreach Days (subject to change/additions)
Wednesday October 12, 2022 at the Des Plaines Library
Thursday Oct 13, 2022 at Partners for Our Communities in Palatine
Thursday Oct 20, 2022 at Partners for Our Communities in Palatine
To Find Application Assistance Near You: Click Here
Translated Flyers Available: Arabic; English; French; Hindi; Korean; Polish; Simplified Chinese; Spanish; Tagalog; Traditional Chinese; Urdu; Vietnamese
Click here to sign up for updates about the Promise Pilot from Cook County or for more information!